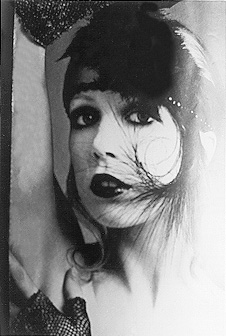 Pattie Boyd - The Biba

The Biba was an old '30s look reoccuring in the late '60s. By 1969, nearly every fashion magazine was flaunting the Biba - named after the store. It represented a dark, mystic look as opposed to the more innocent faces of before. Here are our guidelines at creating Pattie, as the Biba.

1) To get the total effect, we begin be tweezing the eyebrows, thin and round. Makesure both brows are even in width and length and be careful not to take too much.
2) Use a white powder to lighten the face. Pale skin and dark make-up was the Biba contrast. Use it lightly and softly. If you over-do it, you will look gothy and tired.
3) Cover the eyelid is a muddle smokey grey shadow, up to the crease and blend upward.
4) Take black eye-shadow and using a small-tipped brush, heavily apply to the crease of the eye, and a little farther upward beyond. Blend it softly. Also, draw a line of black shadow on the bottom lid and soften.
5) Now, highlight the brow bone with white powder eyeshadow. Have it blended slightly into the black below.
6) A thin black line is drawn with noir liquid eyeliner, next to the lashes. Have it extend well beyond the end of your eye, and slope downward. You might want to add a little more black powder to extend against the line (view the picture above).
7) Lips are over-drawn with deep crimson lip-liner. Make lips very rounded like on Pattie. Blend the liner inward before you apply several coats of dark berry lipstick.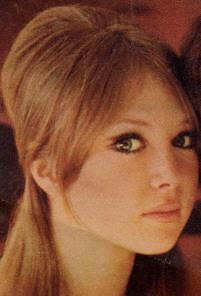 Pattie Boyd - The Innocent

1) Dust face with your flesh tone loose powder.
2) Pale concealer is dotted and blended under the eyes to reduce any 'sleepy' lines. Pattie had very fair skin.
3) Draw a thin black line using liquid liner over the top, keeping it round and peppy. Stop the line just before the end of your eye and very carefully make a short straight dash. (see image above)
4) Medium brown eyeshadow is applied with a small tipped brush from the inner crease to about half way. As the crease lines down, make a swift dash of the line straight across, as seen on Pattie. Also create three 'bottom' eyelashes with the brown shadow.
5) Dark brown kohl rims the bottom inner lid.
6) Dust cheeks with a soft pink blusher, on the cheek bones, as well as the tip of the nose and the chin.
7) Lips are matted with a baby pink lipstick.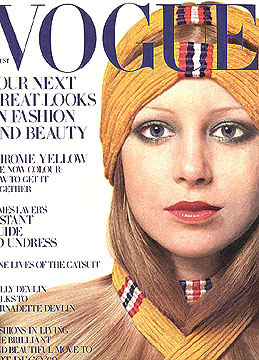 Pattie Boyd - In CoLoR

1) Moisturize! Nothing helps you glow more than a creamy dab of moisturizer rubbed on the face.
2) A light powdering job is appropriate. Focus on the cheeks, forehead, nose and chin.
3) Metallic green eyeshadow is applied on the eyelid up to the crease, and then outline your bottom lid with a small tip brush.
4) Smokey grey eyeshadow will darken your crease, making it dramatic and mod at the same time. Create a "leaf" shape at the corner like the one on Pattie.
5) An apricot-orangey blush is dusted onto the apples of the cheeks. Blend softly and if it appears to dark, you can coat another layer of powder to soften it.
6) Now, we use a reddish-pink lip liner to outline the lips. Instead of over-drawing them like we usually do with Pattie, this time, draw the line onto the natural lip line for the upper lip. The bottom lip is slightly UNDER-drawn (observe shape carefully).
7) Matching lipstick (ruddy-pink) is glazed onto the lips, filling them in and over the lip liner. Add some shine with some clear lip gloss.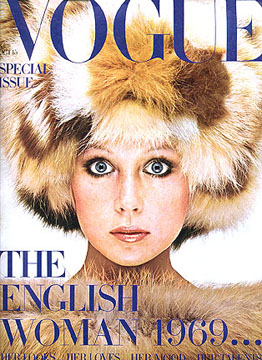 Pattie Boyd - The Beauty

1) Cover any and all blemishes with a soft concealer stick. Blend in well so it matches your skin tone. Then powder the face with a light powder.
2) Fluorescent, sparkly shining powder is matted over the entire face to give you a healthy and beautiful glow.
3) Light metallic brown eyeshadow is used on the eyelid. A Dark brown is applied over the crease, in a thin line and then blended. The bottom lid is darkened with the dark brown powder, by drawing a slim line against the lashes near half way. Then, blend the rest to the inner corner of your eye.
4) Using adhesive, put on a pair of full lash falsies. Let them dry before continuing. If you do not have access to false lashes, you can use many, Many, MANY heavy coats of long black mascara!
5) Now apply mascara to the bottom lashes (it may be black or dark brown). Use a generous amount to make even the bottom lashes full and stunning.
6) Peach-pink blush highlights the cheekbones. Make it look soft and sweet. That is the looking we're going for.
7) Apricot lipstick is used for the lips. Finish it off with a shiner, or shimmering lip gloss. Apply many coats to give your lips the shine Pattie has!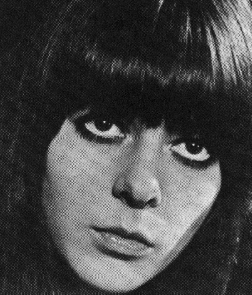 Maureen Cox

1) Apply loose powder over the entire face, lightly. Try to keep your face a paler color, as Maureen had a soft, and pale complextion.
2) Concealer is dotted under the eyes and blended well. You want your under-eye area to be smooth. The concealer will help cover rings around your eyes.
3) Now, use a BLACK kohl liner pencil or liquid eyeliner to trace along the top lid. Make the line clean, smooth, and thick (in the sixties, dark eye make-up was very in). End the line a little farther than the end of your eye (to give the illusion of larger eyes).
4) For the bottom lid, you can either use kohl liner or a black eye shadow (use a small tip brush for applying). Outline the entire bottom lid with either tool, getting as close to the lashes as possible and in between. Blend smoothly for a softer less dramatic effect. NOTE: Don't make the bottom lid 'too' thick or it may loose its '60s effect.
5) The cheeks are dusted with the lightest hint of neutral colored blush (in the brown shades). Mainly concentrate on the brow bone. Use as little as possible. Maureen was not heavy with blush.
6)A flesh toned lip pencil is used to outline the lips. Take a moment to study Maureen's lip shape. Pointed, slightly on the top lip, and pouty on the bottom. Outline slowly and carefully to get the Maureen effect.
7) You can fill in your lips with a soft creamy nude color. As a finishing touch, use a shiner or lip gloss so your lips shine. And voila!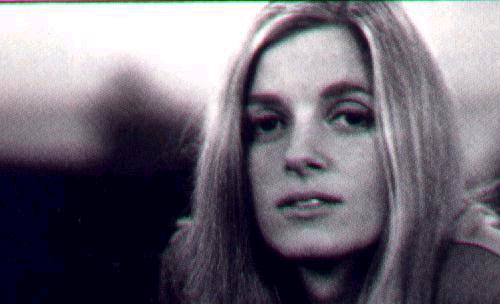 Linda Eastman

1) Prep skin with moisturizer, first. Than cover any blemishes using foundation. Make sure it is blended well.
2) A brown eyebrow pencil is needed to fill in the brow, mildly dark. If you have thing eye-brows, slightly over draw them with the Linda arch. Be sure to observe her brows first before attempting to recreate. You must understand what you are trying to re-enact. If you don't have an eyebrow pencil, you can use light brown eye shadow and a medium sized brush to apply.
3) The eyes are outlined using a dark brown eyeliner pencil or liquid eyeliner. The line should stay thin and end directly at the end of your eye (adding no cleft).
4) Cover your eyelid with tan or neutral colored eye shadow (slightly mettallic-y, if desired). Then, outline the crease of your eye with drak brown eyeshadow (using a small tip brush). If the crease of your eye is very low, you can draw a little bit higher to make your eyes appear more 'lopey' (as Linda AND Paul's were).
5) Observe Linda's lips and their shape. She has long, narrow lips, noth top and bottom. Draw this shape using a flesh-tone lip pencil. you may slightly over-extend if needed (but only slightly!). Fill in lips with again, a creamy nude color or light brown shade.
Barbara Bach

1) I've noted that Barbara's skin tone is far different from the other girls. This is probably because the other Beatle women were from the '60s and Barbara came into the picture in the mid-70s and '80s. So while the other girls had soft pale skin, Barbara had a deeper tanned complextion. So if you have a good tan, this is probably the look for you! And if not, you can try using a self-tanning cream or just a darker foundation (apply evenly to reduce the look of it being fake. You may consider using on neck and slightly over chest, if exposed).
2) If you were blessed with a natural tan, try adding some moisterizer. Barbara always had a natural glow to her.
3) Eyebrows are brushed up then, to the side using clear eyebrow wax. You may want to pluck where nessecary and leave a fine arch. Keep eyebrows slightly thicker, as Barbara's are.
4) Dark brown eyeshadow is swept over eyelid. Then, use a dark brown eyeliner pencil to outline the entire eye (top and bottom lid).
5) Sweep eyelashes with dark brown mascara.
6) Apple-berry cream rouge is rubbed onto cheekbones (slightly dramatically, because Ms.Bach had deep, hollow cheek bones) and onto temples of forehead and tip of chin.
7) Barbara has very full pouty lips (AKA perfect!). She also has a hint of a uni-lip (alla Julia Roberts!). So when you outline your lips, be sure to make them fuller (over-extended, if needed) and pouty. Use that reddish-brown shade she used. Fill in with a dark blossom shade lip stick.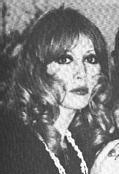 Pattie Boyd

NOTE: Because she was a model and the looks of fashion were forever changing, Pattie has several well-known looks that have changed over the years. This look is only one of many that Pattie wore (the photograph was taken in 1968). I have studied the make-up and colors she wore during this year. In fact, I am looking at a color photo from a book as we speak. Thus, the color pattern I suggest using is very accurate even though this photograph is in black and white.

1) A light powdering is appropriate. Cover entire face.
2) You might like to tweeze your eyebrows in the Pattie shape, if desired. Hers are a little thinner than usual with a distinct arch.
3) Use a pale shimmery blue eyeshadow over the eyelid as far as the crease and stop there. Then, take a navey blue shadow (small tip brush) and outline your an entire eye! I'm serious! Not what you expected, huh? I wouldn't have either had I not been looking at this photograph. Anyways, slightly over-extend and keep it nice and dark. Then, outline the crease of your lid.
4) Sweep your lashes with full mascara. Pattie had beautifully long lashes and you should too. Also, try a light sweep of mascara onto the bottom lashes for the full effect.
5) A light brown blush is applied onto the cheeks, and at the tip of the chin (to keep in balance).
6) The lips are lined with a rasberry lip liner, and filled in with a rasberry lip-stick. Dot on a pink lip gloss to make your lips shinier. And ta da!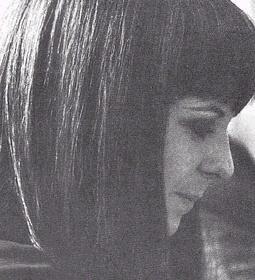 *NOTE* This is a very sharp but sexy late '60s make-up job! For a more 'Mo' look, you can additionally straighten your hair with a straightener.

Maureen Cox II

1) Let's begin by tweezing your eye-brows, shall we? Pluck away any stray hairs, and give yourself a definate arch. Mr.Aucoin suggests following the natural shape you already have. End the brow with a definant tapered point. Sharp! Do not shorten the brows. Next, take an eyebrow pencil and fill in your brows, darkly. Make the sharp point at the end (view the picture above).
2) Cover eyelid using a medium brown eye-shadow. Highlight the crease with a darker brown and blend well. The eyeshadow should extend past the eye (poiting downward) to make eyes look longer.
3) Dark brown kohl eyeliner lines the upperlid, and then the inner bottom lid for a bold look.
4) Trace lips with again, a flesh tone lip pencil and be sure to leave them more staticy (sharp and pointed like Mo's). Fill in with a matching color.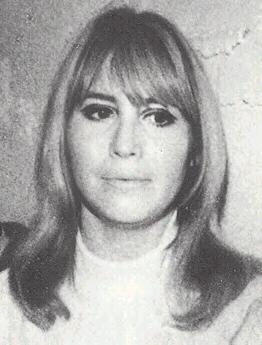 Cynthia Powell

1) Cover any visible blemishes with a liquid foundation (try to keep it pale). You might like to give yourself 'the shine' and tap on a little powder as well.
2) Blend a white powder eye-shadow over the eyelid using a medium sized brush. You may highlight the brow bone as well with this shadow.
3) Dark brown or noir (black) liquid eyeliner is used to draw a very thick line over the top. Make the line thinner at the inner corner, and it should grow thicker as you reach the other end of your eye. Now, draw a thin line over your crease like you can see on Cynthia. Leave it thin and simple but still visible! If your eyelid crease is very low, you can over draw the line to make your eyes look bigger.
4) Black powder eyeshadow is dusted over the crease line towards the end of the outer corner. Using a small brush, apply the powder only halfway to the bottom lid.
5) Very full mascara is now applied to the top lashes. Use as many coats as desired but preferably a lot! Also, sweep the bottom lashes. (Additional if desired, you may apply a set of full false lashes using adhesive).
6) Fill in eyebrows with a dark eyebrow pencil.
7) Pale, pearly lip gloss is smoothed onto lips.